Join Us
In 12 months your child will:
Learn safe dance technique that ensures your child's wellbeing is centre stage. Plus, the secret to super-fast progress that feels effortless for your child – no frustration here
Bond with the small but perfectly formed Dancewise Dream team who nurtures every student, know's everyone's name
Develop friends for life who lift them up, bring them joy, and make them snort with laughter
Perform in a pro theatre in the highlight of our year (They're nervous? Please don't worry. Our system helps them conquer small challenges that gradually baby-step them to WOWING you as their smile lights up the stage)
Enjoy succeeding at their level, their pace, their way. We champion students learning in their own way
Explore positive values through dance. When your child is a Dancewiser they learn so much MORE than just how to dance. We don't teach kids to dance – we teach dance to make great kids! #MoreThanJustADanceClass
Gain confidence trying new things and pushing their boundaries, supported by our team every step of the way
"I cannot tell you enough how being with Dancewise has changed Sabrina"
Explore the Stars… port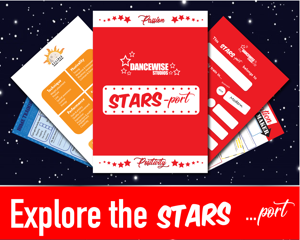 Every Dancewise Student gets access to a Starsport, a bespoke way to keep track of their progress, plan and motivate their home training, develop skills that help in all areas of their lives, and create a record of their Dancewise Journey!
And there's one more thing…
It's totally free!
Positivity
Judgement-free
Holistic
100% Money Back Guarantee