dancewise
studios

staff...
Alison Jones
Founder & Chief Heart Officer
Dancewise Inspirer (Teacher)
Alison trained at the prestigious Italia Conti Academy of Theatre Arts, London where she studied all aspects of dance and Musical Theatre. She worked for several years as a professional dancer, vocalist & actress both overseas and in the UK including being in the original cast of the Irish Dance Show "Celtic Dreams" where she worked with the Artistic Director of "Spirit of the Dance". Other credits include: Peter Pan (title role), South Pacific, Pal Joey, The John Wayne Principle, Angels in America (Landor Theatre, London) and various appearances in variety shows including Live at the Wimbledon Theatre, London. TV credits include Inspector Lynley Investigates and Crimewatch UK. Alison is Director of Dancewise Studios – the premier dance, performing arts and fitness facility in the South – which she founded in 2005. In 2012 she became one of only 50 fully qualified and accredited street dance teachers in the UK as well as being qualified to teach many other styles of dance with over 15 years experience. More recently, Alison qualified as an Acro instructor and is excited to bring these new skills to Dancewise! Her teaching philosophies include Don't teach excellent classes – teach inspirational ones, a teacher should always remain a student and that we should teach children to love dance – the rest will come in time. Alison looks forward to welcoming you to the Dancewise family!
Thom Jones
Chief Inspiration Officer
Dancewise Inspirer (Teacher)
Thom joined Dancewise in 2007 when he was brought on board to help motivate and inspire male dancers. He began working regularly with Dancewise on a dance piece called 'All it Takes', which he wrote and co-choreographed. He now heads up the Boys programme at the studio, as well as leading Dancewise' Street Crew Shino-B. Having started life in the martial arts and after studying 9 styles, Thom mixes the athleticism from those disciplines with acrobatics learned after studying gymnastics as a child, making his classes a fun mixture of athleticism and Street Dance foundation. As one of two government accredited Street dance teachers at Dancewise, he is commited to providing an authentic Street Dance experience, with a passion for Breaking and House. Recently Thom took an Acro qualification so he can bring these skills to his street dance students as well as to our full-time vocational students. Thom's prior experience comes from the world of professional television production, having worked with all the major terrestrial TV channels in the UK. He has a place on the management team and is responsible for lots of the marketing and design work for the studios. Thom loves working at Dancewise and sharing his energy with staff, students and families alike.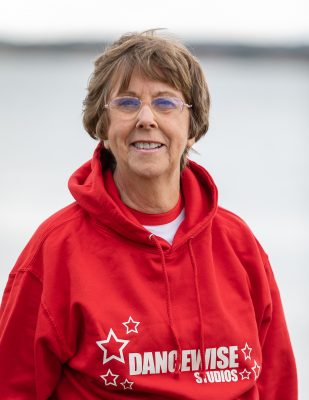 Jan Foster
Sustainability Queen
Jan joined Dancewise in December 2005, working as a part time administrator. Previously, she served in the WRAF. During that time she became school secretary for the combined Services Secondary School, working with a teaching faculty of 45, 1800 pupils and she also managed a local work force of 12 civilians. Whilst a military wife, she worked wherever husband Clive was posted – Basingstoke Police HQs, for solicitors, travel agents, insurance companies, accountants, manufacturing company, the local authority, estate agents and as admin/security at a High Street store. She spent some time in the retail sector too, training as a shoe fitter. For 8 years, she was a director of a successful local
security company; and also worked for The Daily Echo as a Curtain Call Reviewer for 6 years. With Dancewise she has enjoyed tap dance classes, taking part in 2 annual shows and has 2 Tap Medals. More recently she has enjoyed Pilates and Zumba classes. Now a student at the Open University, Jan really enjoys her working with her colleagues at Dancewise and loves meeting students and families alike.

Sami Oddy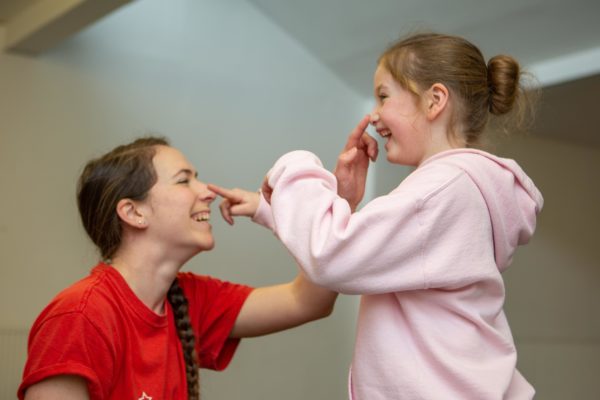 Sparkling Experience Coordinator
Dancewise Inspirer (Teacher)
Miss Sami has been passionate about and loved dancing since she began training at the age of three at her local dance school. Her passion for dance grew and she graduated from the University of Chichester with a BA (Hons) in Dance and Choreography in 2010, having completed her DDI and DDE dance teaching qualifications with the ISTD whilst she studied. After graduation Miss Sami went on to perform with her own contemporary dance company, building her experience with performances ranging from Goodwood Revival to London's Sadlers Wells. However, Miss Sami found that she loved to share her passion and love of dance through teaching and since then has taught at Schools and Colleges across the South Coast as well as at local dance schools. She has been teaching at Dancewise Studios for years and can confidently say she loves it!
Joe Vickers

Rock Star Apprentice
Dancewise Inspirer (Teacher)
Joe has come up through the Dancewise Studos Street Dance and Boys Dance programs. A founding member of Shino-B, our senior street dance crew and one of the founding members of our unique Inspirer's Assistant (IA) program, Joe is now embarking on his second year as our Rock Start Apprentice! He has a huge passion for street dance, for teaching and for honing his high level communication skills. Joe looks after our Stargazer (4 – 7 year old) students on our Street Dance and Boys Dance programs and they just adore him how because of the skillful way in which he manages to combine his gentle approach with his awesome street dance skills.